Professional & Affordable Corporate video production in Brisbane
Professional & Affordable Corporate video production in  Brisbane  
Synapse creative is the most trusted name for corporate video production in Brisbane we can help you with tailored corporate videos based on your requirements.
Why choose Synapse Creative?
You've spent hours searching for the right video company to create promo videos, explain complex processes, or promote your business. You want to find a company you can trust to deliver high-quality results at an affordable price. That's why you're here. At Synapse Creative Services, we specialise in creating high-quality videos for businesses and organisations of all sizes. If you want to improve your brand's digital presence and grab the attention of potential customers, it's time to invest in corporate video production in Brisbane.
How does good quality video enhance digital advertisement?
Sales are boosted through video advertisements
According to data from Amazon and eBay, video advertisements pique a customer's interest in a product by 35 per cent.
Brand awareness is greatly enhanced by video advertisements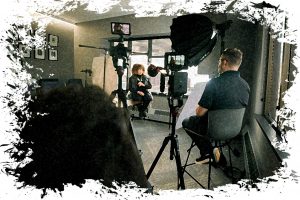 Online shoppers are constantly on the lookout for the lowest prices. They're eager to learn about new products and brands, and they're eager to click on ads. That makes video ads a great way to capture a viewer's attention and build a relationship with the brand. Video ads are especially effective when used for product demonstrations or customer testimonials.
Google loves video content
When making changes to the algorithms that present some sites higher on the rankings page, Google prioritises video content.
Videos share information in bulk within a shorter time span
The best way to build a long-term relationship with customers is to provide them with high-quality content that is tailored to their needs and interests. Our team of professional videographers will craft a unique video that highlights the most important aspects of your business. We can create a variety of videos, including commercials, webinars, product demonstrations, and corporate video production in Brisbane.
Videos enhance social shares
Are you looking for a way to increase the social shares of your brand? Then look no further than Synapse creative Video Marketing services. We understand that Video is an important tool for creating engaging content that is easy to share. That's why our Videos are specifically designed to encourage social shares.
The flexibility
Video advertisements are a great way to promote a product or service. They can be shared on multiple platforms, like the web, in email campaigns, and on social media. Video advertisements can also be displayed on a range of devices, like computers, smartphones, and connected TVs. This gives marketers the opportunity to reach a large audience.
Usage of analytics helps to track details
When it comes to video advertisements, one of the greatest benefits is that they can be measured. The analytics are present on multiple platforms like Facebook and YouTube. This provides us with a clear insight into which of our videos are performing well and which require optimization. Such transparency is a great advantage when it comes to minimising our costs and maximising our returns.
It seems like everyone is distributing videos these days. Sure, it's a great way to capture attention and build a relationship with your audience. But what about your competition? Have you ever wondered if you should be adding video to your marketing strategy?